Wildrose (A day out In Death Valley, August 2001)


August 4th I woke up and hearing no one else was up at the appointed time I secretly snuggled back down. I was finally awoken properly at about half six and I claimed I had woken for the first time (heh heh) G+P had apparently had a bad night(well, that was their excuse)and had therefore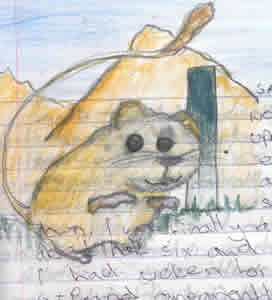 overslept -but despite these hinderances we still managed an early start about half seven with a very jumbly pack. We left for death valley on a breakfast of donut holes... I felt rather sick on the journey (which was smooth apart from an incident involving coffee). We listened to music and finally after lots of driving arrived at our campsite (quite a lot further than anticipated) at about ten. It was free and had a toilet and no neighbours but unfortunately had very hard ground-stony and no shade. We decided not to pitch our tents basically we couldn't be bothered, and left on the road to the valley of death.
First we passed through the small town of Stove pipe Wells but did not stop. We also declined the advertised trip to the borax mines. Then on to death valley's biggest settlement Frurnace Creek, for lunch. First we stopped off at the visitors' centre to look around, gather info and watch an interesting slide show all about death valley in which we caught our first (but not to our surprise our last) glimpse of a kangeroo mouse. We then went on to a 'ranch' in Furnace Creek where we had a very good lunch. I had a tasty burger with bacon and cheese, G had a chicken thing with Zabriskie sauce and P had a HUGE steak sandwich which he only just managed to finish. Thrhoughout our meal we were waited on by a very nice waiter who, we found when the bill arrived (15% tip included) was just doing it because it was his job. We left in good spirits and with full stomachs (by the way furnace creek is 190 ft below sea level) we then drove to Zabriskie Point and found that it was very hot and not much else (didn't spend long there due to this). The views weren't bad. Then we went to another view point (1 mile high!) and looked down on the intriguing salt pans below in the valley. We walked a little down a ridge but went back before we reached the end due to embarrassing exhaustion. We then went down again (pressure popping ears and distressing bottles), back to the visitors' centre where we looked at the previously unnoticed Death Valley museum - (very interesting). I bought a very nice poster, Bats of the West, after a little more mooching around. (Nb (ed) it was cool inside there).
Then we were off again along the road to badwater (lowest point in the western hemishpere at 280 ft below sea level) to discover just how bad it really was. As it turned out it wasn't so much bad as boring, a shallow salt-encrusted pool of 'bad' water. We took a photo none the less only to discover that we weren't supposed to go down to the naughty h2o due to the fact that it disurbed the habitat of the soft bodied snail. Never mind, on to the artists' view a winding road through some very interesting coloured rocks with colours ranging from reds andgreens to browns and yellows and pinks. We took the mandatory photo and went onto the devil's golf course. It was about the least tempting place to play golf possible, it was basically a flat field full of shart sharp lumps made from salt, not unlike a grey ploughed field. But still! We came here for the heat and we were getting plenty of that, the high of the day 122 degrees F that's 50 centigrade. Then we went onto golden canyon. We walked up the interestingly textured path of the water-shaped valley all the way to the red cathedral. A huge red piece of rock that looked vaguely like its namesake with a bit of squinting and a lot of imagination. Then back to the car and on to stove pipe wells again for cokes with marachino cherries. The barman earned his tip with chat and we bought some expensive bread from the store opposite.
Then back to Wildrose, at about half seven, where we found a massive RV had moved in. Luckily nowhere near our planned site. We set up tents a little to G's disappointment (G wanted to sleep under the stars), with the elements against us; my tent got completely blown away! Finally with a little morale boosting we had our tents up. Then came the second time of kangeroo mouse vieiwing that day but this time it was real! I was getting things out of the car when it came along and looked at me with sweet dark black eyes -completely unafraid. I quickly summoned G&P and they also viewed the sweet vcreature, but I will never forget the short time the I and the mouse locked eyes -my moment of the holiday. Still in awe we sat down to a meagre supper of bread and biscuits under the outcoming stars, a really good time was had -we were also blessed by the company of a small troop of cactus mice running from the hedge to our car constantly. As I was leaving to go to bed I was bitten on the foot by something and became very distressed, but comforted into gentle slumber by my loving parents -a day to remember.
Gabriel Jones