Falling Leaf:
In my country, there's a tradition that every falling leaf you catch in the autumn represents one perfectly happy day in the next year. Long ago we used to try and catch falling leaves every September and October: running around St James's Park under the great plane trees, chasing the wind along little Sussex lanes. It was an end in itself, the happy day conjecture was just an excuse. When we were on our big trip to Poland in 1997 (visiting my brother and sister-in-law who were posted in Warsaw), we drove our little hired car into the hills, looking for snow, and stopped at a small spa town called Rabka. It was Easter week. We climbed up to the ski lift platform, through a whirling blizzard, through a snowy forest. We stumbled upon a forest hut, where they served russian dumplings and hot lemon tea. We got lost, we got found, we built a snowman, we were rescued by a miraculous deer. When we were safe again in the roadside bar, eating ribs and warming our soaked socks by the fire, snowy night outdoors, Gabriel said, that must have been a falling leaf day.

He was right. There are falling leaf days. They are very few, not always spectacular, but unmistakable. They only happen on holidays, so this is, in fact, the travelogue feature.
this is the latest:
Coniston Water Kayaking
Monday 21st September 2020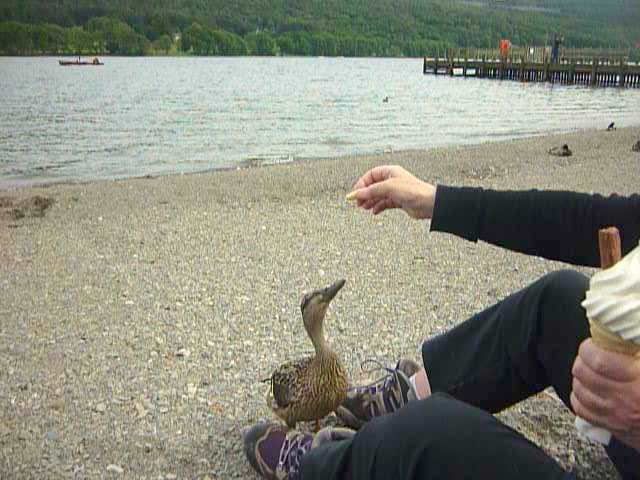 Coniston was crowded. The car park down by the lake was packed, stuffed with obese SUVs. Megafat giant cars are the money's riposte to the dangerous notion that we should be driving less and it works! People feel safe and successful sitting inside those things, says Gabriel, and he's right, of course. We ate at the Bluebird Cafe, no longer a blue wooden shack but a complete makeover, including huge Covid screens dividing the tables (it's uncanny how this pandemic contrives to make everything else that was going wrong much worse). Noemie and I had messy chips (sticky bowls of chips with melted cheese and chili sprinkles) and were envied by our companions. The cheerful Kayak minder said, as he handed out lifejackets and paddles, that he didn't mind how long we stayed out. "If you don't turn up by morning, we might worry a bit." This was Noemie's idea for an outing. She'd never tried kayaking before, but she was fine, as were we all. The dark blue water was dancing-choppy, the weather was perfect, the traffic light, hardly a boat on the water except the Steam-Gondola, spewing out its immemorial dirty plume. We kayaked up the lake to a headland park where there was a big sycamore over the water that we could aim for. Above the pebble beach we sat on a ledge of roots and green turf, geese and sheep cropping together peacefully behind us. Housemartins and swallows flocked overhead (in no hurry to leave, apparently); perching in the flickering birch leaves above us, and darting off again. A pied wagtail (with a very white head) kept us company, hunting insects at the water's edge, right at our feet. Then we forged on, further up and crossed the lake, to take a second break by a jetty where the steam gondola passengers had disembarked (to have an ice cream? to look at something?). There were boulders to sit on, views of the Old Man etc, and one boulder, named Q13, big enough for Gabriel to lie on its warm top ....
Kayaking back to the start was supposed to be easy, breeze behind us, but that breeze was a cross-wind, it took quite a bit of effort to avoid going round and round. However, we all made it back, returned the shells and went shopping. I bought a new teacloth in the tourist-shop "village" down by the lake. Noemie looked at boots back in Coniston town, I bought a new hiking top; Peter and Gabriel collaborated on buying the traditional fudge. A flock of Herdwick sheep appeared, being driven through the town by dogs and men, and thrilling all of us tourists. On the way out of town we stopped at the Nepalese Mountain Craft Market, as we had promised ourselves, and here Noemie bought a silver ring with a dark and glowing stone (obsidian?). I bought a handmade paper notebook, and Peter bought some beautiful letter cards, decorated with pressed leaves.
So this was our big day out, and it was grand.